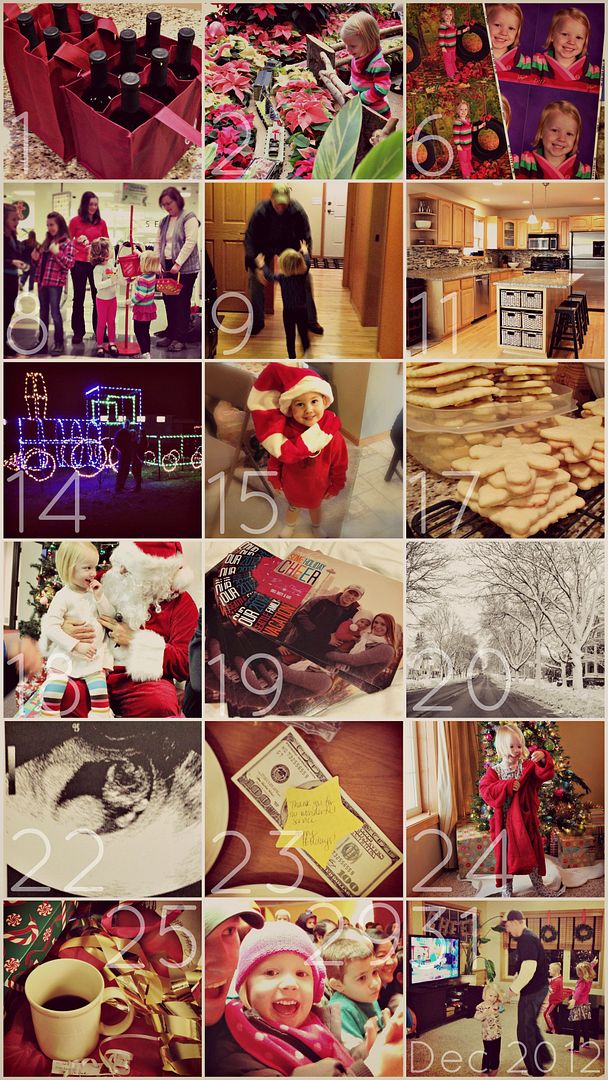 Our Month in Review – December 2012
December 1:  G left for a 10-day business trip at the end of November, so I thought it only fitting that I stock up my wine rack.  Ten days of Single Momming It = Ten Bottles of Wine.
I rock at math.
December 2:  I took Kate to see the Holiday Express Model Train & Flowers show at Olbrich Gardens.  Trains are her biggest thrill right now, so she loved it!  (Except for these 30 seconds when she tested out pouting after I told her she couldn't touch the trains; makes me giggle every time I see it.)
December 6:  Kate's school (daycare) pictures arrive!  (And I try not to have a heart attack when I see the complimentary Missing Child ID Card they included with her prints.)
December 8:  While finishing up our Christmas shopping, Kate and I see Salvation Army bell ringers at the mall.  I decide it's a great opportunity to teach Kate about the value of giving back and how it's our responsibility to help others when we can.  At the end of my little lesson I give Kate some money to donate "so other little kids can have Christmas presents, too!"  Kate drops the money in the bucket as the two women ringing the bells shower her with praise and one of them gives her a piece of chocolate candy.
Later, Kate sees this picture on my phone and I ask her, "Do you remember what we learned that day?"
"Yep," she replies cheerfully.  "I put money in the bucket and I get a treat!"
(Clearly, lessons on social responsibility cannot compete with chocolate.)
December 9:  G returns home from his 10-day business trip just in time for Kate to run up and tackle him before her bedtime!
December 11:  Our Tile Shop kitchen reveal!
December 14:  G, Kate, my sister Brittny and I take a tour of the Holiday Fantasy in Lights.
December 15:  Enjoying a family gathering at my sister Apryl's house, complete with my little nephew Everett looking adorable as ever in his super long Santa hat.
December 17:  Kate and I try our hand at making Christmas cut-out cookies for our very first time!
December 18:  Kate has her Christmas pageant at daycare, followed by a cookie reception and a visit from Santa Claus!
December 19:  I finally get around to mailing out this year's holiday cards.
December 20:  We get hit with 20″ of snow in a snowstorm that shuts down our city for two days.  I'm not sure which I love more – having two "snow days" or being guaranteed a White Christmas…both are pretty spectacular!
December 22:  G's sister Lesley and her new husband Ben arrive from Seattle to join us for the holidays and surprise us with some thrilling baby news!!
December 23:  Two days before Christmas, G, Kate and I go to our favorite pancake place for brunch and left our waitress a $100 tip. It felt wonderful to surprise and appreciate a total stranger who works hard and keeps a smile on her face! This is something we hope to do every year before Christmas from now on.
December 24:  The morning of Christmas Eve is when we open presents at our house and this year G and I surprised Kate with her first bath robe, which we wrapped with a little jingle bell tucked into the pocket (inspired by her favorite holiday movie, The Polar Express).  She was so surprised!
December 25:  A relaxing Christmas Day at G's parents house, celebrating with Steve and Pam (G's parents), G's sister Lesley and her husband Ben, and my sister Brittny who now lives nearby and joined us this year.  Kate was absolutely giddy to be surrounded by all of her favorite people, all in the same room for the very first time.  It was quite likely my most favorite Christmas Day ever.
December 29:  G and I take Kate to see the "Wayne the Wizard" magic and ventriloquism show at Kids in the Rotunda at the Overture Center.
December 31:  Our friends Todd & Robyn and and their daughter Marit, and Andy & Deb and their two boys Anthony and Carter join us at our house for a low-key New Year's Eve celebration.  I'm not sure who had more fun ringing in the New Year playing Kidz Bop Dance Party on the Wii – the kids or the adults!
Happy New Year everyone!  I hope you all had a joyous December and a wonderful holiday season!