Progress on Kate's "big girl" room has been slow since we were in a rush to get her moved into it, and I had only accomplished the bare minimum prior to her move-in date.  Luckily I've gotten a few more things accomplished since your first look at Kate's new space.
I had to.
Every time I walked into her sparse room with nothing up on the walls, white sheets for bedding (it was the middle of summer) and a privacy shade tacked up at the corners of her window I couldn't help but think: "It looks like a crack house in here."
After some window treatments, bedding, and wall art, I'm happy to say it looks a lot more like a little girl's room and a lot less like something you'd see on an HBO special: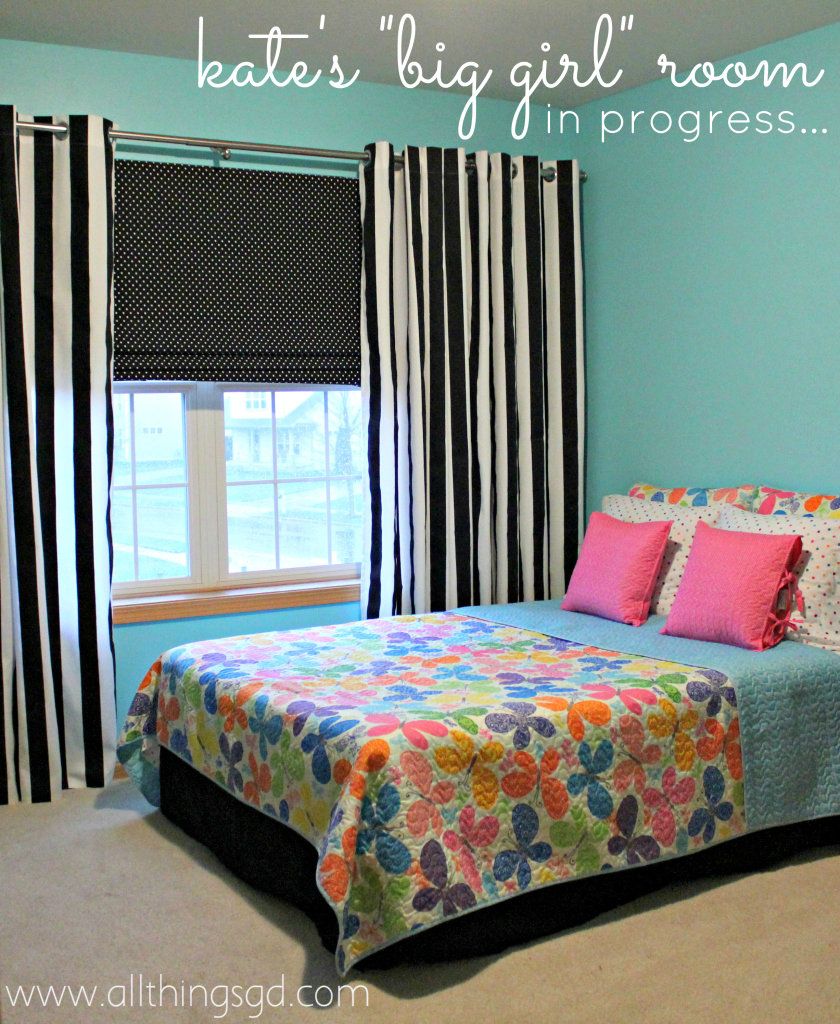 Kate's Room, version 2.1 – with many more versions to come!
Window treatments were my first order of business. I was looking for black and white striped drapes and as luck would have it, I found exactly what I wanted on the cheap at IKEA.  I wanted to continue with the option to black out Kate's room at naptime and bedtime, but black out shades for a window this size would've cost us all our crack money were way too expensive.  Even trying to find a plain white roman shade this width that I could add my own blackout liner to was ridiculously out of my price range.  I remembered years ago seeing a tutorial on how to turn vinyl blinds (like the one already in her room) into DIY roman shades, so I searched out tutorials, pieced a few together along with some trial and error (and black and white polka dot fabric), and made my own DIY blackout roman shade for just the price of fabric!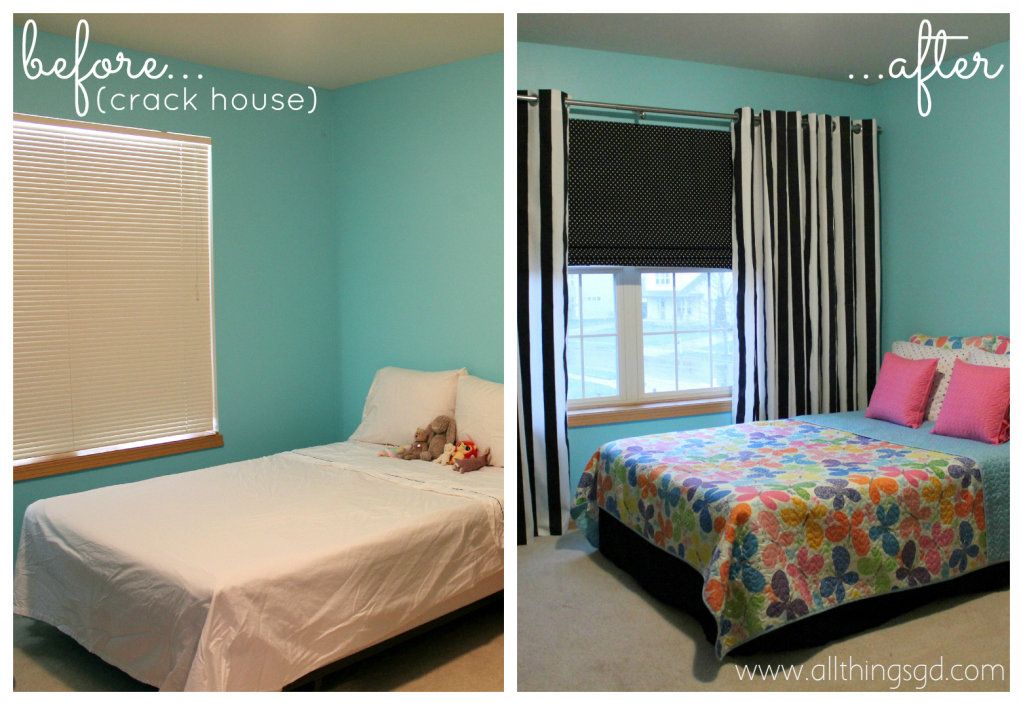 Vinyl blinds turned into a DIY blackout (polka dot!) roman shade.
Kate (32 months old at the time) was thrilled with this new addition to her room! As soon as she saw them she hugged me around my legs and said, "Thank you so much for my beautiful curtains, Mommy. I love them."
She had a similar reaction when I finally got around to buying her bedding.  Kate was the one who actually spotted the butterfly quilt that's now on her bed while we were "exploring" at the mall one day.  We wandered up to the second floor of Boston Store (something we never do) and Kate spotted this butterfly set in the bedding section.  It wasn't exactly the colors I originally had in mind for her room, but she loved it so much (and it was on sale!) so we bought it, along with two matching pink toss pillows and a fuzzy purple pillow (not pictured) that she adores – all for about $50!
Next, I picked up multi-colored polka dot sheets from Target to go along with Kate's new colorful bedding.  Kate's a huge fan of polka dots (she calls them "polka pots") so I knew she'd be thrilled!   As I was making her bed for the first time with her new sheets, Kate walked up, laid her cheek on the sheet and stretched her arms out wide as if she were giving her bed a hug, sighed, and said, "I love polka pots…they make me so happy."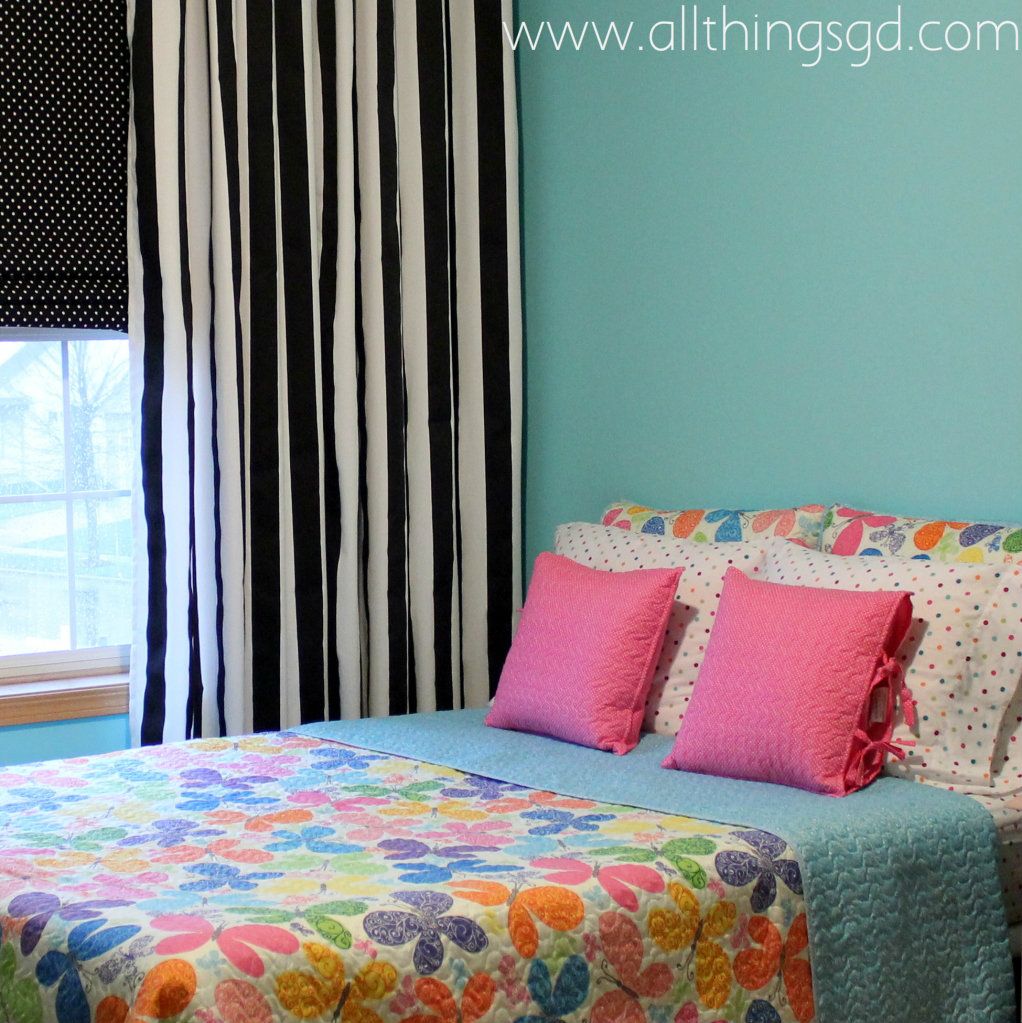 Close-up of Kate's butterfly and "polka pot" bedding.
The other side of Kate's room (across from her bed) is slowly coming together.  I'm reusing the purple dresser from Kate's nursery, and now that Kate's potty trained we no longer needed the changing pad that had been sitting on it.  The two baskets on top of her dresser originally held diapers, wipes, sanitizer and lotion.  I decided to keep the wipes/sanitizer/lotion basket the same (because you never know when you're going to need it, am I right?) and used her diaper basket to corral some of her favorite bedtime books.  The wall art is all from Hobby Lobby (clearance – woot!) and works great for now, especially since giraffes are one of Kate's favorite animals!
Kate's dresser and wall art.
And that's my progress on Kate's room so far!  As you can see from my graphic below, there is still plenty to do, but at least we've got a little color and life in here for now – and I'm tickled to pieces that Kate loves it as much as she does!