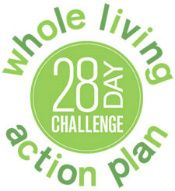 I spent my bonus week (Week 4) of this year's Whole Living Challenge gradually adding dairy, gluten, and animal proteins back to my diet.  It was a week filled with lots of fruits and vegetables, including trying a Celery Root, Kale & Avocado Slaw for the first time – that celery root looked scary!  I also had my first slice of bread for the month (mmmm), topped with butter (mm-mmm).  I discovered when reintroducing foods back into to my diet following my first Whole Living Challenge that I have a sensitivity to dairy milk and ice cream, but luckily I didn't experience any allergic reactions or discomforts as I reintroduced the rest of the detoxed foods back into my diet this time around.  This was a huge relief because I've been questioning if I have a gluten sensitivity, but it appears I'm in the clear!
One of my overall goals for doing this detox was to push myself to try new foods and recipes. The following are the new foods I tried for the first time during the 2013 Challenge:
Portobello Mushrooms
Cooked Kale
Red Lentils
French Green Lentils
Cardamom
Celery Root
And the following are the new recipes I tried:
Roasted Portobellos with Kale (good flavor, but I couldn't get past the texture)
Spiced Cashew Cream Dip (tasted like dessert – loved!)
Detox Salad (a staple; better with a squeeze of lemon before eating)
Marinated Apple Slices (tasted like SweetTarts; interesting and yummy)
Red Lentil & Sweet Potato Stew (was nervous to try, but I liked it!)
French Lentil Salad (loved it; great flavor!)
Ginger Orange Smoothie (delicious; I'll add it to my smoothie rotation)
Kale Slaw w/Red Cabbage & Carrots (I liked!)
Creamy Broccoli Soup (Loved at first, but got sick of it quick)
Pumpkin Seed Zucchini Crackers (really good!)
Broccoli Chickpea Salad (liked; will definitely make again)
Avocado Black Bean Tacos (LOVE! Was a hit with G too!)
Cardamom Quinoa Porridge (Meh.)
Cauliflower "Rice" Stir Fry (Meh.)
Roasted Vegetables with Quinoa over Baby Spinach (Loved! One of my favorite recipes of this year's Challenge)
Black Bean/Brown Rice Patties (Great smoky, southwest flavor, but crumbly. G liked these, too.)
Mixed Greens Smoothie (it was just okay.  I like my regular green smoothie better)
Baked Tofu (loved!)
Shaved Carrot Salad with Baked Tofu (really liked!)
Stuffed Acorn Squash (good)
Roasted Red Pepper & Kale Frittata (my very first frittata – loved it!)
I found this year (my third time doing the Whole Living Challenge) to be the easiest.  I didn't battle hunger pangs or intense cravings like I had in previous years, although my willpower did crack at the end of Week 3 and I went on a 24-hour binge eating bender.  Interestingly enough, as I looked back over my notes from my first two Whole Living Challenges I realized that the end of Week 3 is when I cheated each of those years, too!  There's something about that Day 20/Day 21 mark that sends me over the edge!  I think next year I'll build in some little cheats along the way (maybe one glass of organic wine/week?) to keep my crazy brain under control, give my willpower a break, and give myself a better shot at overall success.
Overall, I lost 6 lbs, which I'm happy with.  That takes care of the extra weight I gained between Thanksgiving and January and puts me back at the weight I've been maintaining ever since I first did this Challenge.  I think it's great to eat 100% "clean" for a good stretch of time, although I continue to believe that my 80/20 plan is the right balance for me long-term.
One of my favorite take-aways over the past 28 days is all of the great new recipes I challenged myself to try!  I plan to continue making a Challenge-friendly salad once per week to enjoy for my weekday lunches.  In fact, I just finished up my second go at the Detox Salad to enjoy this week!  I've also developed an even greater appreciation for kale!  Over the past two years I've only eaten kale as part of my green smoothies, but after this year's Challenge I've been enjoying it wilted with my eggs, chopped up in salads, and in lieu of lettuce for tacos.  I've turned into a kale-eating fool!
Thank you so much to everyone who cheered me on and offered support over the past 28 days, and to all of you who did the 2013 Whole Living Challenge with me!  Who's in for next year?!
These and other Challenge-friendly recipes can be found on my 2013 Whole Living Challenge Pinterest board. You can also follow along with me on my All Things G&D Facebook page and on Instagram for even more new recipes posted throughout the year!