New to this series? Catch up here!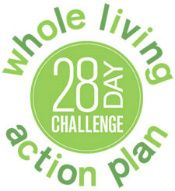 I had a volleyball game with my women's team the first evening of Week 3 of the Whole Living Challenge (Day 15).  The first play of the game I brought my hands up to set the ball…and my wedding ring went flying off my hand!  We immediately stopped the game as 12 women scoured the gymnasium for my beloved platinum band.  Thankfully someone found it, and as I slipped it into a zippered jacket pocket – safe and sound – I laughed and thought to myself, "Hey body, this is what it feels like to cut out excessive sodium and wine!" 
That was the first notable thing to happen during my Week 3.  The second was falling off the wagon….
To recap, the following are off-limits throughout this three week (and bonus 4th week) detox plan: processed foods and beverages, added sugars, dairy, caffeine, alcohol, and gluten. In addition, food options for Week 3 are limited to only the following: organic, non-GMO soy (tofu, edamame), eggs, fish (except shellfish), fruits, vegetables, beans & lentils, nuts, seeds, plant-based fats/oils, and spices.
One of my overall goals for doing the Challenge this year (and every year) is to push myself to try new foods and recipes. I didn't try any new foods this week (I'm almost out of new foods to try!), but here are the new recipes I tried:
Mixed Greens Smoothie (it was just okay.  I like my regular green smoothie better)
Baked Tofu (loved!)
Shaved Carrot Salad with Baked Tofu (really liked!)
Stuffed Acorn Squash (it was good)
Roasted Red Pepper & Kale Frittata (my very first frittata – loved it!)
My friend/coworker Tiffany joined me in a recipe swap this week (our friend/coworker Katie was a slacker and didn't make anything), so I got to try one extra Challenge-approved recipe that I didn't have to make. This week Tiffany made Stuffed Acorn Squash, and I made the Shaved Carrot Salad with Baked Tofu – both were really good!

To wrap it up, here's a log of what I ate during Week 3:
DAY 15
7:30am: Hot water with lemon
8:15am: Mixed Greens Smoothie
12pm: Lettuce salad with hard-boiled egg, avocado, carrot, and sunflower seeds
3:45pm: Cashews
5pm: Roasted Vegetables w/Quinoa over Spinach
8pm: Wine & Blue Corn Flaxseed tortilla chips
DAY 16
8am: Hot water with lemon
9am Mixed Greens Smoothie & and apple
12pm: Pumpkin Seed Zucchini Crackers
2pm: Roasted Vegetables w/Quinoa over Spinach
4pm: Orange
5:30pm: Cashews
8pm: Baked Tofu
DAY 17
7:30am: Hot water with lemon
8:30am: Small chai latte made w/almond milk
11:30am: Shaved Carrot Salad w/Baked Tofu
3pm: Leftover Shaved Carrot Salad w/Baked Tofu & 1/2 a Grapefruit
5:30pm: Roasted carrots and potatoes
8pm: The rest of the roasted carrots and potatoes
DAY 18 (Valentine's Day)
7:30am: Hot water w/lemon
8am: Blueberry Smoothie
12pm: Stuffed Acorn Squash & 2 Pumpkin Seed Zucchini Crackers
3pm: 1/2 a Grapefruit
5pm: Blue Corn Flaxseed Tortilla Chips (I'm addicted)
8pm: 2 Black Bean Avocado Tacos w/quinoa added
DAY 19
7:30am: Hot water w/lemon
8:30am: Blueberry Smoothie & Green Tea
11am: Cashews
12:45pm: Lunch w/coworkers – 2 Fish Tacos, homemade tortilla chips & salsa
3:45pm: Marinated apple slices
(Cue my first truly bad decision during this year's Whole Living Challenge, leading to my fall dive off the wagon.)
5pm: Drinks after work with co-workers. I had 3 beers. I resisted the greasy, fried bar food my friends ordered while we were there.
6:41pm: Received a text from my friend Jill raving about the amazing nachos she just had at dinner.
8pm: I arrive home and make my own homemade, all-natural (but not Challenge friendly thanks to the meat and dairy) nachos of flaxseed tortilla chips, homemade taco meat, black beans, cheese, and sour cream. G gives me a puzzled look as I'm piling my ingredients high on the plate. I give him "a look" back and I say, "I'm going to eat these. And you're not going to judge me."
And then I do.
DAY 20
This was my big time falling off the wagon day.
DAY 21
8am: Hot water w/lemon
8:30am: Roasted Red Pepper & Kale Frittata
12pm: Roasted Vegetables w/Quinoa over Spinach
2pm: Almonds & Cashews
6pm: 2 Avocado & Black Bean Tacos w/Quinoa
I had a bump in the road toward the end of Week 3, but the important thing is I got back on track.  Taking great advice from some of my wonderful readers, I choose to focus on (and celebrate!) the 20 days that I made good choices and challenged myself to try new recipes, instead of on the 24 hours when I didn't.
These, and other Challenge-friendly recipes can be found on my 2013 Whole Living Challenge Pinterest board. You can also follow along with me on my All Things G&D Facebook page and on Instagram for more new recipe updates!