The 7th and final day's recap of this year's "A Week in My Life" series!
6:40am: I wake up to cuddles from G – such a lovely way to start the day! G gets out of bed to take care of Kate (who just woke up) while I steal a few more minutes of sleep.
7:00am: I'm up and out of bed. Kate plays with my makeup in my bathroom while I get ready for my morning run.
I check the weather:
The weather report for this morning's 10 mile run.
Running 10 miles in 37 degree weather is NOT my idea of a good time, but I have no choice.  I'm training for a half marathon that I'm running with my friend Jill in a couple of weeks, and I've committed to running this 10 with Jill this morning and I don't want to back out on her.
Time for an exercise in gratitude to turn my perspective around:  I'm grateful it's not 36 degrees. I'm grateful I don't have to run 11 miles.  I'm grateful it's not raining. I'm grateful that I have the ability to run. . .
7:30am: I'm out the door to start my run. My hands are a little cold the first mile but after that the weather actually doesn't bother me at all.  Jill and I meet up after our first mile. We live about 2 miles from each other so our plan this morning was to leave our houses at the exact same time, run 1 mile toward each other, meet up and run the next 8 miles together, looping back to our meeting point, and then splitting off to run our final 1 miles home.  Running with her definitely makes the time go by faster.   We have a great run, averaging a 9:02 minutes/mile pace – right on track for our race day goal.
9:15am: I get home from my run, stretch out, shower, and get ready for the day while G and Kate play outside.  Kate and I are attending the Dane County NAMI Walk later today – a fundraising event to raise awareness, combat stigma, and increase support people for people affected by mental illness – and I exchange texts with friends so we can coordinate meeting up.
10:00am: Breakfast. Leftover breakfast casserole (the last of it) and a protein coffee drink (I go with caffeinated coffee today – after running 10 miles I think I'm going to need the boost!).
10:15am: I feed Kate a snack (a homemade banana chocolate chip muffin) as G leaves for his errands and to work out.
I mix up some festive fall snack mix and package it in little snack bags for Kate and the other kids who will be joining us for the NAMI walk this morning:
I finish packing up our bag and then Kate and I get bundled up and we're out the door.
11:20am: My friend Jill arrives to pick us up and we're off for the NAMI Walk!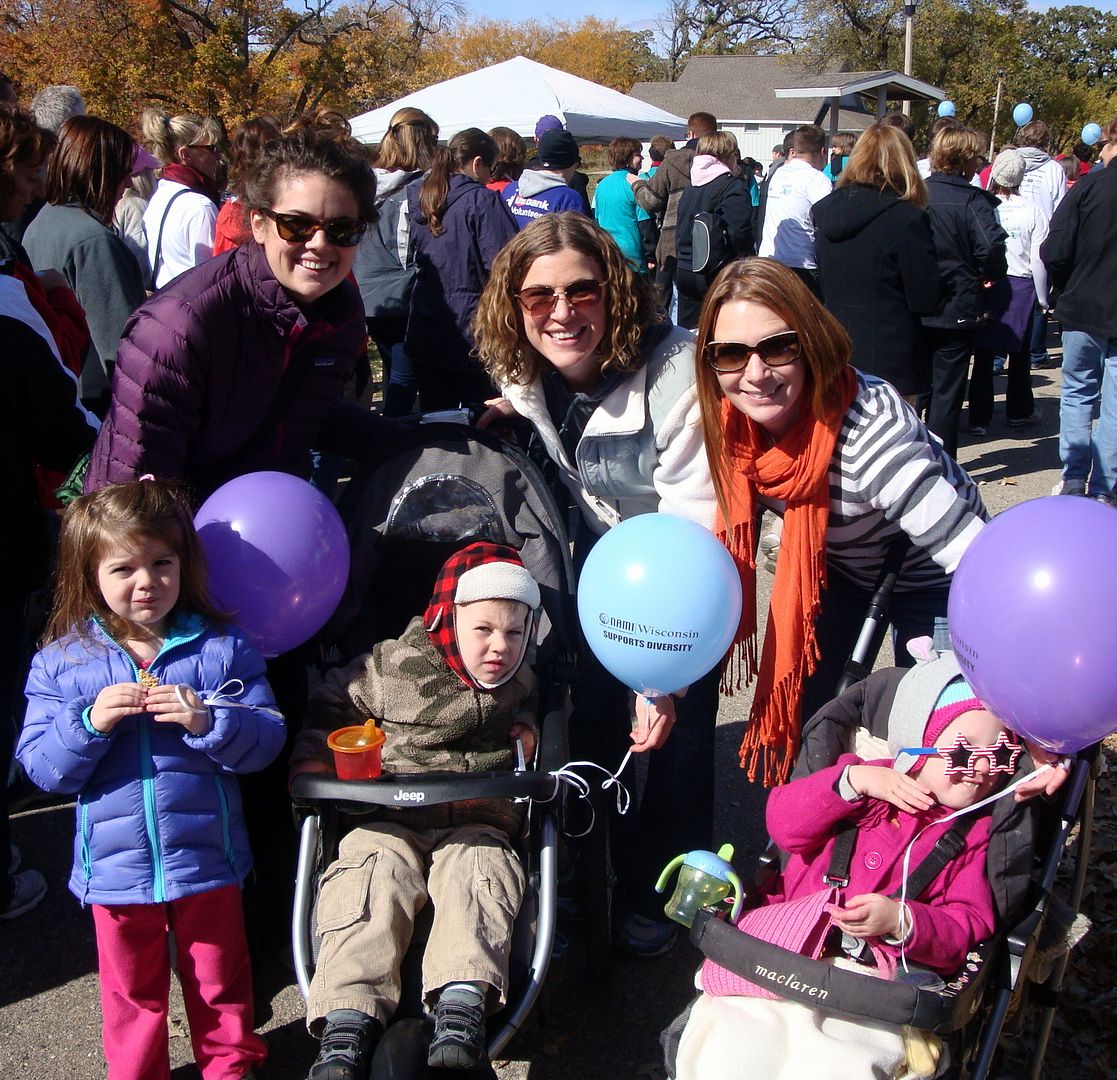 My friends Katie and her daughter Ruby (almost 4), Jill and her son Brady (35 months), and Kate (32 months) and I, about to start the two-mile NAMI Walk.
Me and Kate, about half-way through the walk: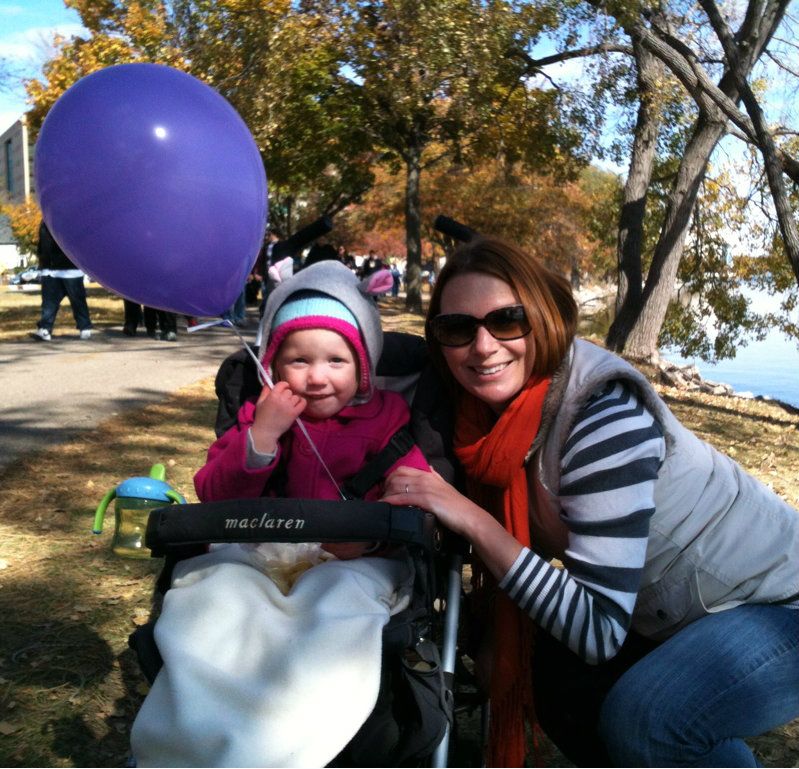 Kate loves her balloon!
When we're nearly finished with the walk Kate asks me to untie the balloon from her wrist. Then she asks me to take her coat off. "Oh, are you getting too hot?" I ask.
"Get me out of here!" she responds as she tries to wiggle out of her coat and stroller straps.
"Oh, do you want to get out of your stroller so you can walk?" I ask as I start unbuckling her.
"No, I don't want to walk – I want to run!" she exclaims as I get her out of her stroller and she takes off running down the trail.
My friend Katie is walking ahead of us and she greets Kate as she runs up. "Oh hi, Kate. Are you running?"
"I'm exercising!" she squeals with delight.
"I'm exercising!" Kate squeals with delight.
After the walk, the six of us (three moms and three kids) play at a nearby playground and then go to a restaurant for lunch.
3:00pm:  We're home!  I fill G in on our day and get Kate set up at the sink for her favorite water play.  This has been a favorite activity of hers for as long as I can remember, and it keeps her occupied for quite awhile.  She pushes her little stool up to the kitchen sink and fills a large blue bowl up with water.  The rule is once the bowl is full the water is shut off (otherwise she'd want to run the water the whole time).  She picks out measuring cups and empty spice bottles to play with (she likes to practice pouring and filling the bottles up with water) and sometimes she also asks for a spoon or a funnel.  In recent months we've added her Little People animals to the mix and she likes to set them up so they each have a little cup to drink out of.  It's so much fun to watch her play!
Kate, enjoying her favorite water play.
A water station for each little animal, just in case they get thirsty (which apparently Panda did)!
4:00pm: G takes over with Kate because it's nap time for this tired mama.  It's been a long day!
5:30pm: I wake up from my nap. My sister Brittny is back from her drill weekend and stops by for a visit before she heads home.  I make popcorn for Kate and I and we have a movie night snuggled up on the couch watching Cars (one of our favorite things to do).
6:15pm: I wish G luck as he leaves for his Sunday night volleyball game.
6:30pm: Bedtime for Kate. After I get her changed into pajamas and her teeth brushed and flossed we snuggle up in her bed and read "Are You My Mother?"  I've tried to explain to Kate that I'm her mother, but she just looks at me like I'm a moron and replies, "No you're not.  You're Mommy!"
7:00pm: Kate's all tucked into bed, so I head back downstairs to visit with my sister Brittny for a bit.
8:30pm: I'm always so sad to see Brittny leave, but it's time for her to head home. Once she's gone I open the laptop and type up some notes about the day, and then put the finishing touches on a blog post to publish tomorrow.
9:00pm: I really need to do some cleaning! I clean up the kitchen and our downstairs bathroom/powder room.
I really need to put my clothes away and clean my upstairs bathroom, but I'll do that tomorrow. It's the season premiere of Giuliana & Bill tonight and I can't wait to watch it!
9:30pm: G gets home from his volleyball game and fills me in on how it went.  They won 5 out of 6 games and there's a new girl on his team who's from my teeny tiny hometown – such a small world!
10:00pm: I'm finally done with cleaning, so I decide to work on my tiles for a little bit. I'm almost done with this project!
10:30pm: Lights out.  Goodnight!
This concludes this year's "A Week in My Life" series!  I hope you've enjoyed it!