With my tiles set, it was time to start grouting!
You really only need to let your tiles set for 18-24 hours before grouting them, but I let mine set for a week since I'm a weekend DIYer and wasn't able to get to them any sooner.
For my backsplash I used unsanded grout mixed with flexible grout admixture in my Tile Shop bucket, and applied it with a tool called a float.
Tile grouting supplies.
I have no idea how it looks when the pros do it, but here's how it looks when I do it (after a glass of red zin):
Applying grout to my tile kitchen backsplash.
It's hard to spread that stuff on when you're working in such a tight space!
Do they make mini floats?
Like, dollhouse size?
Surely Barbie had the itch to upgrade the molded plastic backsplash of her Dreamhouse to tile, am I right? That's the size float I needed. The Barbie Dreamhouse size. With a little handle that fits perfectly over my parade-waving wine-glass-holding permanently shaped hand.
It's important to work in small sections when you grout tile.  First you apply the grout with a float, and then you use your big yellow sponge from the Tile Shop (not all sponges are created equal, so make sure you're using the right one for the job!) to wipe down your grout.
After attending The Tile Shop's DIY tile class, I learned a lot about how to properly grout tile.  For starters, you need the right sponge and you need to learn how to wring it properly to get it just barely damp.  (Remember – water is grout's enemy!)  You then make one swipe over your just grouted section of tile with the sponge at a 45 degree angle to your grout lines, using medium pressure, and then you turn your sponge around and make one swipe over that same area using light pressure.
And guess what.
That's it.
That section of tile is now as wiped as it should be, and your sponge is now cashed and should be rinsed thoroughly and wringed properly before continuing on to your next section of tile.
Something I didn't know until I took The Tile Shop's class (and something that was so hard for me to actually put into practice!) is that it's okay to have some haze left on your tiles after you wipe it down (just twice!) with your sponge.  In fact, if you don't have haze over your tiles after this step, it's pretty much a guarantee that you've over-wiped your tiles and therefore exposed your grout to a lot more water than you should have (tsk, tsk).
Here's a picture of the first section of tile that I grouted (see above) after I wiped it down properly: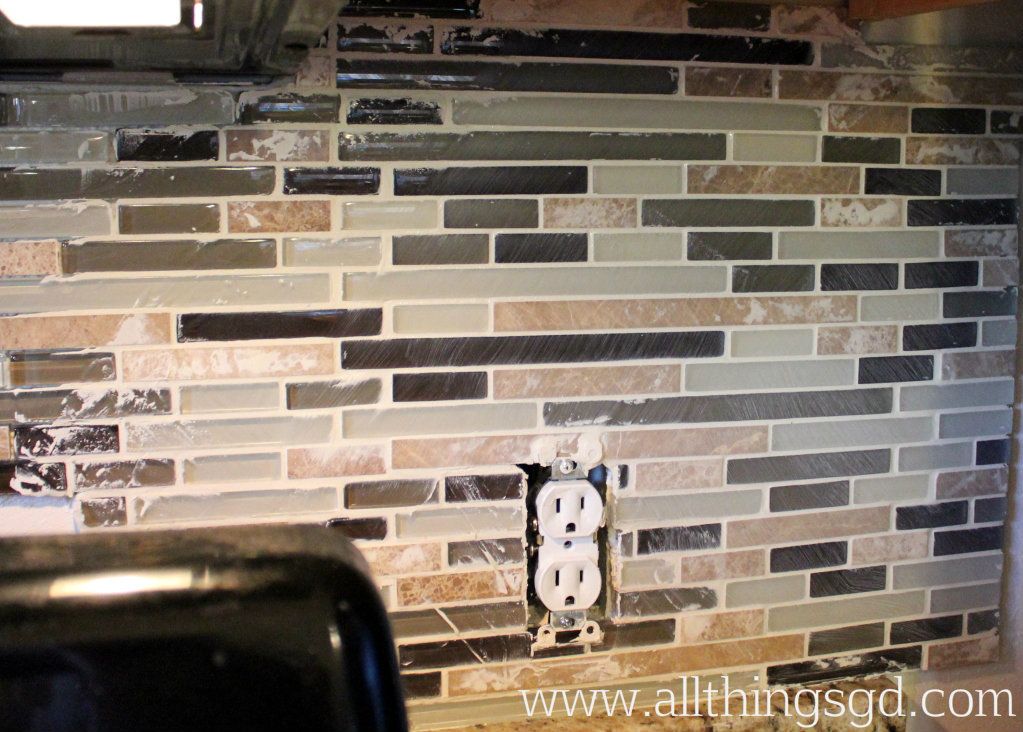 My first attempt at wiping grout from my tile backsplash.
It looks terrible.
You know it. I know it. Hell, even Barbie knows it.
See all those crusty chunks of grout sitting on the tile in the upper right corner, the upper left corner around the microwave, the lower left corner around the stove. . .alright, fine, everywhere?
That happened because I worked too slowly.
I spent way too much time applying my grout (and trying to get it all Dreamhouse perfect) that by the time I got to the "sponge it off" step, it had already started drying.  I share this picture with you not to show you how much I suck at grouting, but to assure you that even if your tile still has this much grout on it after you give it its two wipes – it's okay!  It'll come off.  I assure you.  My kitchen looks so awesome today that Barbie just made us an offer.
By the time I got to the other side of our stove I had learned from my initial mistakes and stepped up my game.  Here's how the tile looked after I grouted and sponged it:
Hazy, but not crusty – just how I like it.
I waited the oh-so-hard 24 hours to let the haze dry before cleaning it off.  At that point, I could have just taken my big yellow sponge to it, gave it a few good swipes to clean it up, and call it a day – but you and I both know that's not how it played out.
Instead, I hand-wiped, washed, and buffed each individual tile until I was confident it was haze-free and my grout lines were perfect.
Each.  Individual. Tile.
I'm not going to lie – it took a while. I'm not sure how long exactly, but I finished buffing my tiles sometime in October, and I started sometime in September. . . of 1982.
You do the math.
See that?  Awesome.
Once my tiles were perfectly buffed, it was time to seal those bad boys to make sure they stayed looking perfect.
Tile sealing supplies from The Tile Shop.
Sealing is significantly less time consuming that buffing, and I knocked this step out in less than an hour.
Last, but not least – caulking!
Just when I thought my tile couldn't look any better. . .I caulked it, and it did.
You wouldn't think a simple little thing like caulk would have such an impact, but it has that same kind of effect that you get when you underline text or frame your Instagram picture – it gives a good thing that little extra pop!
My corner (vertical) line before caulk, and after caulk.
Running a caulk line behind my kitchen sink.
I'm a caulk pro with my Pro-Caulk.
After all this, I'm thrilled to say that my kitchen backsplash project is finally done!  Check out next week's Tile Shop Tuesday post for the final reveal!
New to the blog?  Catch up on my Tile Shop Tuesdays posts here:
My tour of The Tile Shop.
The Tile Shop's DIY tile class.
Starting my DIY tile backsplash.

Disclosure: The Tile Shop has provided me with products for this series, however, all opinions are my own.