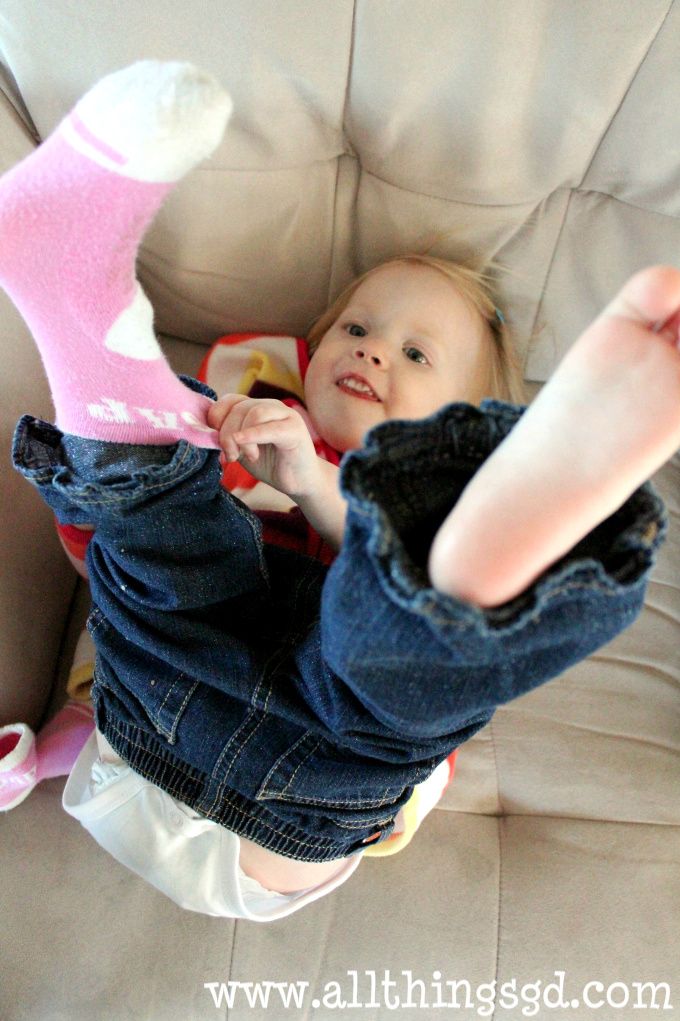 Kate: 24 Months
Kate can do anything.
I've pretty much always had this hunch, and now she just flat-out tells us.
"Kate do it!"
"I do it myself."
I'm all about raising a self-sufficient and confident daughter, so we let her "do it herself" as much as we can.  The photo above was taken shortly after Kate woke up from a nap.  She always takes her socks off when she naps, and as I was changing her diaper I mentioned that we were going to need to put her socks back on.
"Kate do it!" she excitedly replied, and then grabbed her socks and started trying to put them on before I could even finish pulling her pants up!
There is so much I love about these pictures…her little onesie-covered tush sticking out, the fact that the first sock she put on is upside down, how she gives up with her left foot and decides to go back to where she had success and puts both socks on one foot, her tongue sticking out while she concentrates…and most of all I love her sheer determination.
That's my girl.
In addition to putting on her own socks, she also likes to take her jacket off herself, and zip up her coat (although we have to get the zipper started for her first).  It is fun to see her getting a little more self-sufficient every day!
Remember when I told you how much Kate loves trucks?  Well that was an understatement.  Kate LOVES TRUCKS–all caps, all trucks, all the time.  She absolutely adores watching the garbage trucks on Tuesday morning, and has totally turned into Quality Control over our trash collection.  As soon as she hears the trucks she races to the window to watch them pick up the bins from our curb with their electrical arm, empty our garbage, and then set our bins back down on the street.  Lord help the garbage man operating the electrical arm that accidentally knocks over a bin in Kate's presence–she is ALL OVER IT.
"The garbage man knocked the garbage can over!"
"Do you see it?"
"Look Mama!  The garbage man knocked the garbage can over!"
Hours later she will still report to any new set of ears, "The garbage man knocked the garbage can over today."
The next morning, after 12 hours of sleep, she will wake up, yawn, stretch, and look out the window to see if that tipped over garbage can is still out there.  Regardless of its presence she give me her Most Serious Look and state, "The garbage man knocked the garbage can over."
The City of Madison better be seriously concerned once this kid is able to start writing Letters to the Editor.
Speaking of letters, Kate has been learning her lower-case letters.  She's has known all of the capital letters for months now, but it never occurred to us that there's a whole other set of letters she still needed to learn until one morning she pointed at something and asked me, "What's that?"
"That's an A," I replied.
Kate looked at it in confusion and I soon realized why.  To her an "A" looks like this: A.  The "A" she was pointing at, however, looked like this: a.
I watched her little brow furrow as she struggled to make sense of this brand new piece of information.  I tried to help by explaining, "That's a lower-case A."
More confusion.  Of course.  "Lower-case" means nothing to her.
I tried again:  "That's a little A."
More confusion.  I quickly realized that to her a "little A" would be a capital "A" that's just smaller.
I tried one more time:  "That's a baby A!"
Finally, I could see the understanding come into her eyes.  This made sense to her!  After all, baby animals look different than big animals, but they're still the same animal.  A "baby A" would explain how it could still be called an "A" but look different from a capital A.
"A baby A!"  She cheerfully announced as she pointed to it again.  She quickly noticed there were all sorts of "baby letters" and she wanted to learn them all.  It didn't take her long, and now she has most of them down (although baby d's and baby b's still trip her up).
One of Kate's favorite things this month is "hiding" from us by placing her hands over her eyes or standing behind the kitchen curtain.  If we don't notice right away she'll prompt us by saying, "Where's Kate?" which then turns into a fun game of us asking, "Where's Kate?  Where could she be?!" as we search all over to find her.
"Is she in the oven?  No…."
"Is she in Mommy's bag?  No…"
"Is she under the couch?  No…"
(Sometimes Kate will even join in this part of the fun and say from behind her curtain, "Is she in the bathroom?")
All the while she is in plain sight and giggling hysterically, until she opens her hands (or pulls away the curtain) and exclaims, "Here I am!"
Oh, how we laugh!
Other things Kate loves this month are raisins, her crayons and coloring, fish, the color purple (she always wants her milk in a purple sippy cup and calls it "purple milk"), reading bedtime stories to us (she has some of her books memorized), and saying "man down!" when she drops something.  Her favorite songs right now are "Mickey Mouse's "Floatin' Bubble Song" and "Monkeys Jumping on the Bed."  She squeals with delight and runs all around the living room when these songs come on!
Now what kind of Mom would I be if I didn't mention that 24 months means Kate also turned 2!
We had
so much fun
celebrating Kate's 2nd birthday with a
Sesame Street themed party
!  Almost as much fun as the party were the days leading up to it while we prepared.  Knowing Kate wouldn't get that "wow moment" all the other kids experienced when they walked in the house for the first time, I decided to give her several little "wow moments" each day leading up to her party.  I waited until she went to sleep to work on her party decorations so she'd wake up in the morning to a fun new surprise!  Her first surprise was seeing the life-sized Sesame Street lamp post on the wall.  The next morning she woke up to find a sea of balloons in the living room (she loved that!).  Other morning surprises included the balloon chandelier in the kitchen, seeing all "her friends" (Sesame Street characters) lining the walls, the massive colorful sea of balloons hanging from the entry hallway, and lastly, Elmo's goldfish Dorothy coming to visit.  She was so excited over every little detail, but Dorothy took the cake!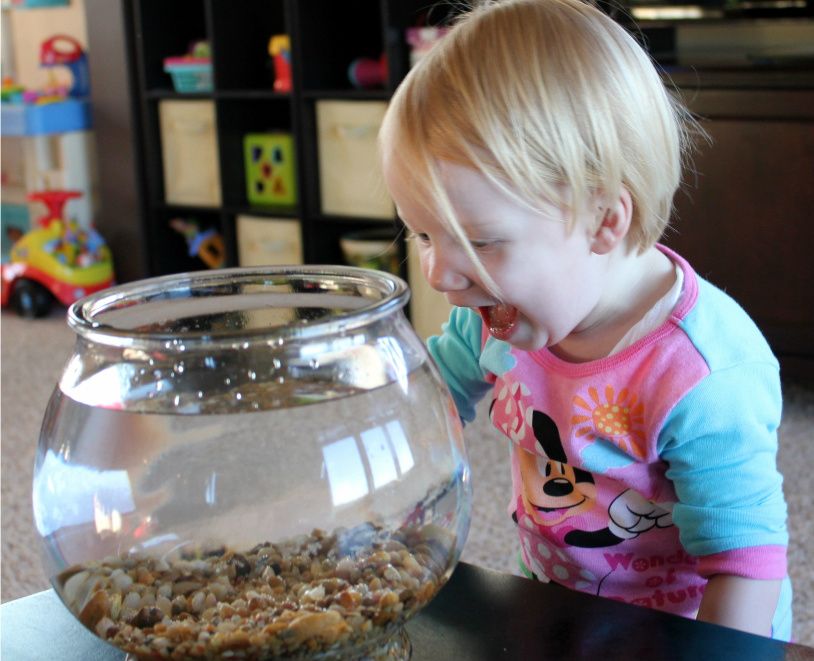 Meeting Elmo's goldfish, Dorothy!
She loved watching Dorothy swim around the fishbowl, talking to her, and showing her all sorts of things she can do–just like the kids on Elmo's World do!
(Sidenote: Around the 51 second mark you can hear Kate singing "Happy Birthday to Jesus" which is a song they sang at her daycare Christmas pageant a couple weeks prior to her birthday.)
Lastly, for some strange reason, Kate started saying, "I don't know" with a British accent last month.  I have NO CLUE where she picked this up, but it's the funniest thing!  I'd been having the toughest time catching it on video (the trick is asking her a question that she understands and doesn't know the answer to–not so easy when it comes to this little smartypants).  Well I finally caught it!  You can hear it slightly at the very beginning of this video, and then it's really obvious at the end.  Hope this makes you laugh as much as it does me!