With 2012 behind us, I thought it'd be fun to do one big post recapping my blogging year in review – sort of like a blogging yearbook!  (Minus that whole uncomfortable "will you sign it?" awkwardness, and the "I hope my comment doesn't turn out to be lame in five years" fear.)
I hope you enjoy this look back at some of the best of All Things G&D from 2012!
January kicked off with Kate's 2nd birthday…and a birthday means a birthday PARTY!  I went all out for Kate's Elmo & Sesame Street themed birthday party, and we had an incredible time!
Once I finished up Kate's party planning, I finally got around to compiling a one-stop shop for all of my pregnancy-related posts including links to my weekly pregnancy updates, maternity fashion, labor and delivery stories, that damn 4th trimester, and my pregnancy rules to live by.  Last, but certainly not least, ridiculous amounts of fun was had when some of my girlfriends and I flew to New Orleans to surprise our pregnant friend Natalie with a visit!  We helped her with her baby's nursery and got our asses kicked on Bourbon Street.  That's living life at both ends of the spectrum, my friends!
February was a grueling month in that it kicked off my 2nd annual Whole Living Challenge to eat clean and try new (healthy) foods and recipes – a challenge that many of my readers joined me in!  In between all of that, I also tried my hand at Marshmallow Pops for Kate's daycare Valentine's Day treat, reflected back on my 2011 Resolutions, rocked some hot pink tights, and highlighted my favorite baby products from birth to 3 months.
In March I blogged about my ATG&D Facebook page hitting 1,000 likes (woot!), shared my ideas for 20 candy-free Easter egg fillers for toddlers, and decorated our house for spring for the first time.
Also in March, I tried out a tutorial on how to get waves without using heat so I could have SJP-like hair for my annual Oscar party – a night filled with fabulous friends, old bridesmaid dresses, a candy buffet and, of course, a red carpet walk-off!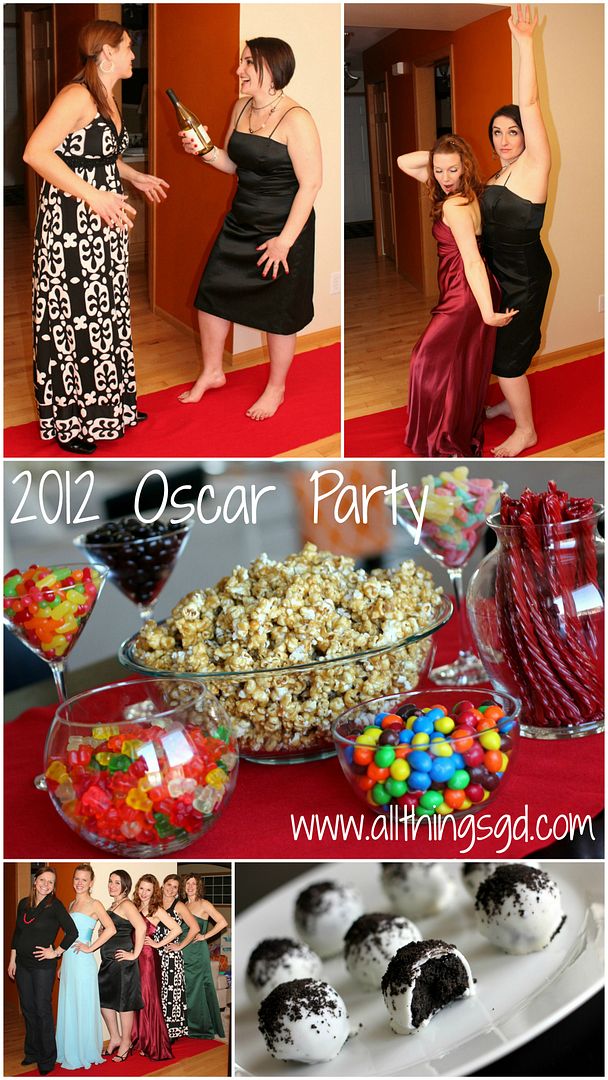 My 2012 Oscar Party
In April we celebrated Easter, Kate's love of accessories, and my glass food jar addiction.  I shared some more of Kate's favorite lunches, including her all-time favorite crock-pot chicken taco chili, and I repurposed her birthday party decorations to create a Sesame Street hallway.  I booked tickets to the 2012 Haven Conference for home decor and DIY bloggers and admitted my worries of getting chased out of there by real DIY/home bloggers macing me in the face with cans of spray paint.  (That didn't happen, by the way.)  Then I took worry to whole 'nother level and confessed that I was FAH-REAKING OUT about G and I flying to Seattle without Kate, convinced we were going to die.  (That didn't happen either, by the way.)
In May I blogged about our Seattle trip, tried out red skinny jeans, shared even more of Kate's favorite lunches, showed off a "thank you" care package using a scarf in lieu of tissue paper, and celebrated my fabulous new blog design, created by my friend Allison at The Adventures of VAMH!
In June I was thrilled to show off our new granite kitchen countertops, and equally exciting (if not more so) was attending the Haven Conference!  I could have never predicted how much fun I would have, how many wonderful people I would meet, and how much I would learn when I signed on to attend this blogger's conference primary geared toward DIY/home decor bloggers.  From being sandwiched by Sherry from Young House Love and Katie from Bower Power, to booty shaking it for Karianne from Thistlewood Farm, to getting nearly zero hours of sleep after staying up all night gabbing with my dear friend and hotel-mate Beth from Unskinny Boppy – the experience was so rich and full that it was easily one of my highlights of the year!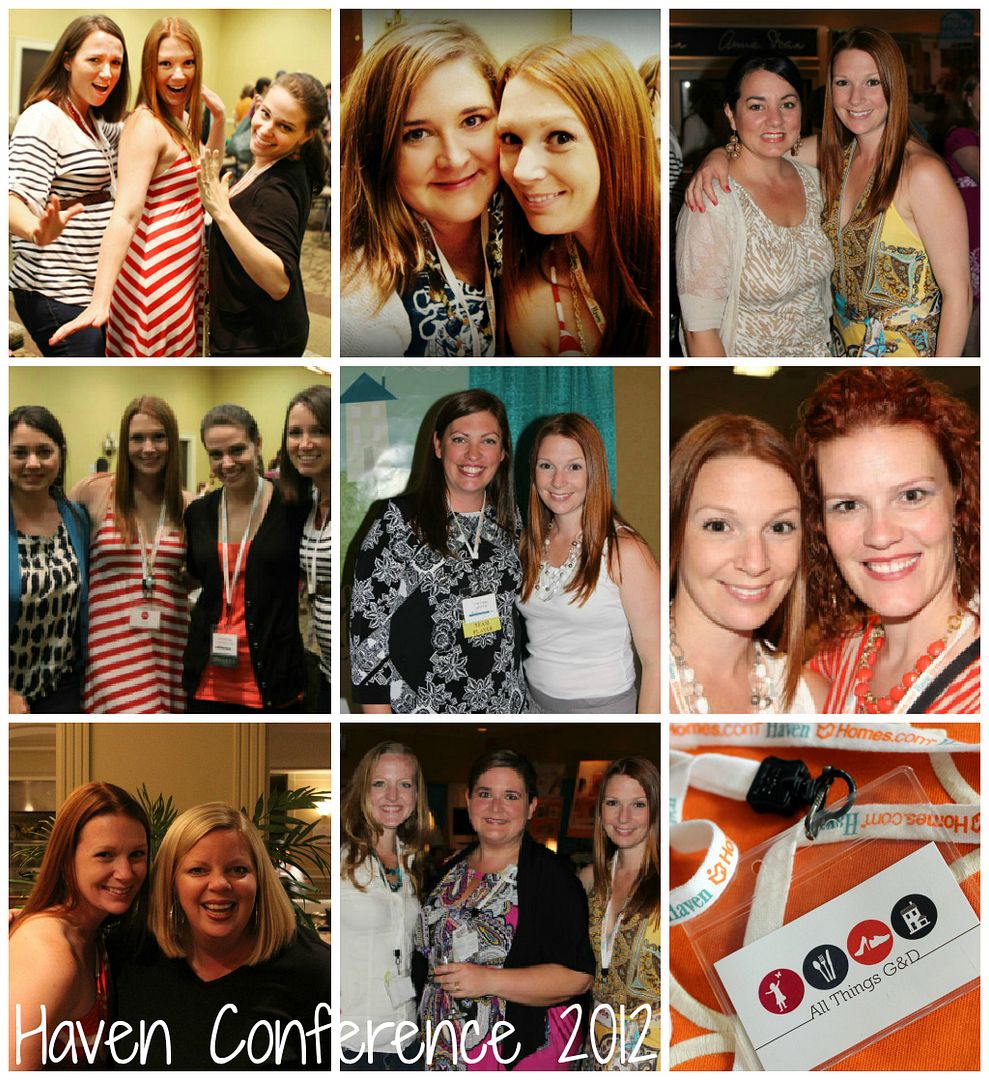 The Haven Conference 2012: Making friends with some of the most gorgeous and talented women in blogging!
Tickets for Haven 2013 are on sale now, so if you're thinking about attending and wondering what you may be in for, check out my daily recaps here:
The Haven Conference: Day 1
The Haven Conference: Day 2
The Haven Conference: Day 3
July 2012 saw the long-awaited reinstatement of my summer staycation, and our 7th annual Fourth of July party!  Complete with homemade BBQ sandwiches, homemade marshmallows, a s'mores tower and s'mores bars, a slip & slide for the kids, a fantastic fireworks display, and all of our favorite people – this year's party was our biggest and best one yet!
Our 7th Annual 4th of July Party
August was a slow blogging month for me, but the bests of the month were finishing my second half marathon, and blogging about my mad negotiating skills which led to the awesome deal I landed on my new car!  I'll always remember that salesman with fond memories and a smile.  I like to think he does the same.
In September I shared my solution for keeping Kate's painting, sticker, and coloring projects under control with our organized art display, recapped the cra-mazing (last year's Whorecation (published while on this year's), got started on Kate's new "big girl room" and had a photoshoot with the phenomenal Melissa Oholendt for headshots for my blog!  Any chick who can make me look good after a 5 hours drive (<-she's worth it) is definitely cra-mazing.
Hmmm…what else?
Oh yeah – I blogged about the camera crew that came to our house to shoot footage for a national Oreck television commercial!
It was crazy.  And amazing.
That was my September blogging – a month so unreal I had to make up my own word for it.
Cra-mazing.
In October I blogged about the coffee lover's gift idea I created for my friend Katie, shared an idea for festive fall snack mix, ran my first Color Run, showcased my 2012 A Week in My Life series, my new inifinity scarf, our non-scary Halloween decorations, the premiere of Oreck's VersaVac commercial featuring an appearance by me and G, my tricky Halloween outfit, and the incredibly creative and thoughtful Happy Anniversary pumpkin bouquet that G surprised me with on our 9 year wedding anniversary!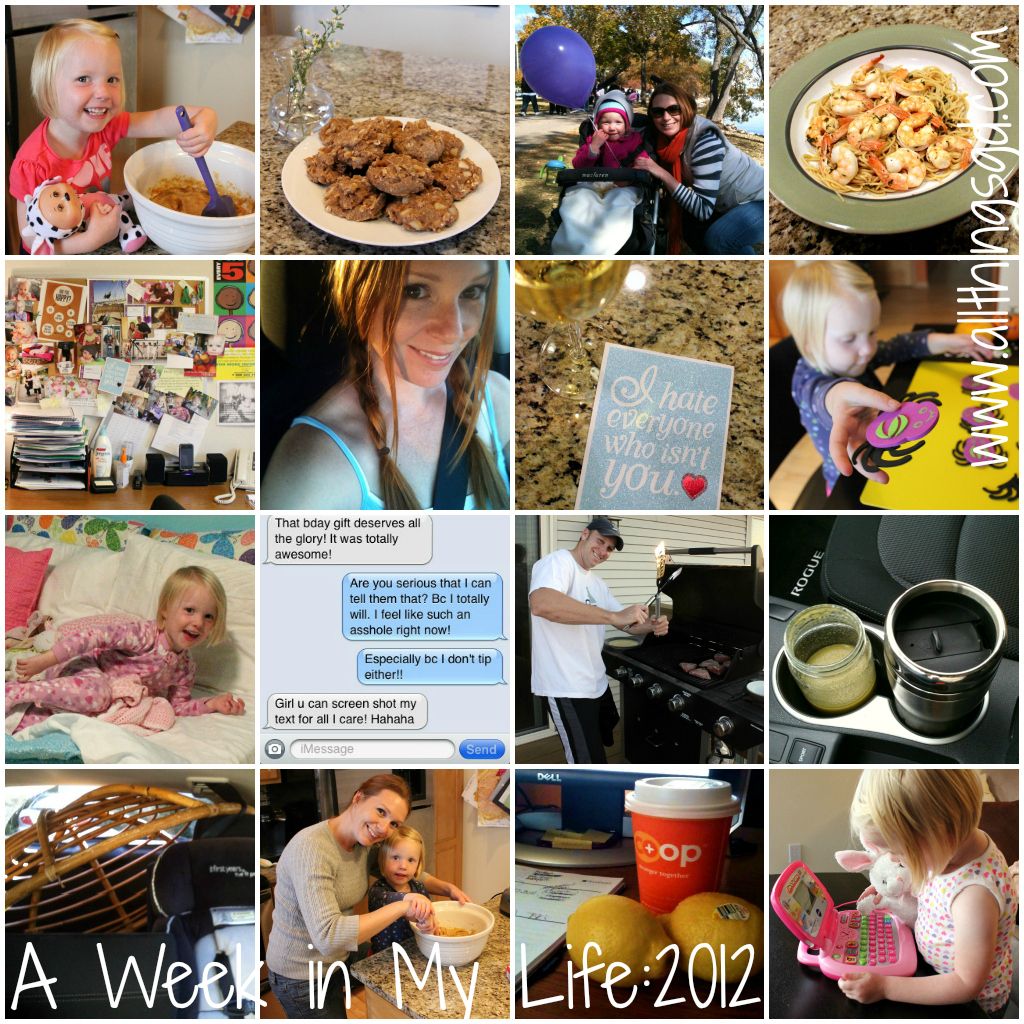 A snapshot of my Week in My Life series from 2012.
I took care of some unfinished business in November by completing the Tyranena Half Marathon – a race that had been haunting me for five years!  I also shared my idea for mailing a hug care package to loved ones, showed off my love of mixing stripes and colors, and our colorful Christmas tree.  November also kicked off my first Month in Review photo recap, and my super exciting partnership with The Tile Shop for our DIY kitchen backsplash project!
I finished up my DIY tile kitchen backsplash in December and was thrilled with the results!
My attention then turned to decorating the house for Christmas – something I look forward to every year!  I blogged about our sparkly holiday entryway trimmed with ornaments over mirrors and stockings bursting with color, our gift-wrapped photo gallery wall, playful metallic ribbon-wrapped holiday letters, Kate's crazy and creative Christmas tree, and everything in between!  I wrapped up the month of December with a tutorial for sparkly holiday nails, perfect for ringing in the new year!
Of course, throughout all of 2012 I also continued capturing Kate's interests and developments as she grows (found in Kate's Monthly Posts), and my list of "Things Loved" – a collection of my favorite products, entertainment, etc. each month.
That's my All Things G&D "yearbook" for 2012!  All-in-all it was a full, fun, and surprising year.  Thank you so much to those of you who shared in it with me!