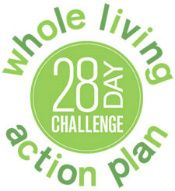 It's here! Whole Living has finally released their 2013 Whole Living Challenge – a whole-body detox designed to supercharge you for the New Year – and I'm so excited to tackle it!  I originally planned to start the 2013 Challenge this week, but then I noticed my stocked wine rack, and a calendar that says G will be out of town for work all week (meaning 5 days of single-momming it), and a photo shoot with The Tile Shop on Wednesday (woot!).
One sip of red zin and I was back to my senses.
My new start date for this year's Whole Living Challenge is Monday, January 28th – a week from today!
To get myself prepared for starting next week I'll be doing the following things this week:
Reflect on my goals for doing this year's Challenge.
Begin a food journal, keeping track of what and when I'm eating and how I'm feeling afterwards to get me tuned into my body and focused on being more conscientious of my food choices.
Drink lots of water!  I'm aiming to drink at least 64 ounces of water each day.
Ease up on the six forbidden foods during the Challenge: anything processed, added sugars, coffee, dairy, gluten, and alcohol.  (Those first three are easy for me to eliminate, but those last three are definitely going to be a challenge!)
This year's Whole Living Challenge is 21 days of body detoxification, but I plan to stretch mine into 28 days (similar to previous years) by doing a bonus 4th week.  Just like last year, I plan to live out this year's challenge on my All Things G&D Facebook page and here on my blog by posting each week's menu, my preparation, recipe links, and weekly recaps.  I'll also be pinning challenge-friendly recipes to my 2013 Whole Living Challenge Pinterest board.
There are lots of ways to follow along, but as many readers found out last year, the best way to stay linked in is to do the Whole Living Challenge with me!  Who's in?!
On the fence about committing?  Check out the weekly requirements and recipe suggestions at WholeLiving.com (so many delicious recipes that I can't wait to try!), read through the pros and cons of the Challenge in my 2012 recaps, and keep in mind that doing it together is always easier than flying solo!
Ready to treat your body better?  Me too! Let's do it!