Kate's 2nd birthday party started out being Elmo themed (her favorite Sesame Street character) but as I began brainstorming ideas for party decorations I realized I couldn't stop at just Elmo. The G&D household is all about equal opportunity, so the rest of the Sesame Street gang was soon invited to join in on the fun!
Welcome to Kate's World!
This Sesame Street birthday party brought to you by the letter K and the number 2.
Come on in and play!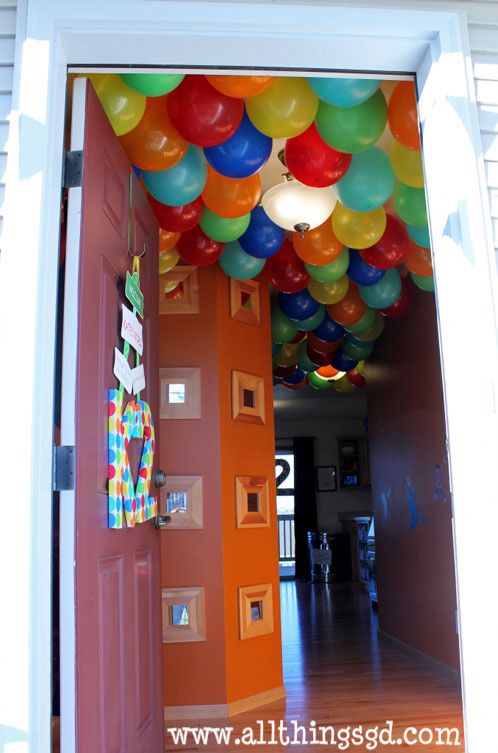 I really wanted the children to feel a sense of excitement as they walked in the door so I focused heavily on our entryway–starting with 50 billion balloons, each individually hung from the entry hallway ceiling. Sesame Street characters (wall decals) lined each side of the hallway, right at toddler eye-level.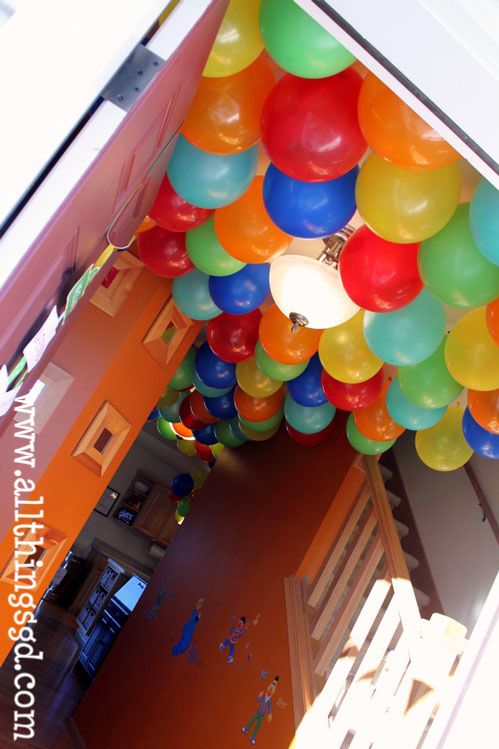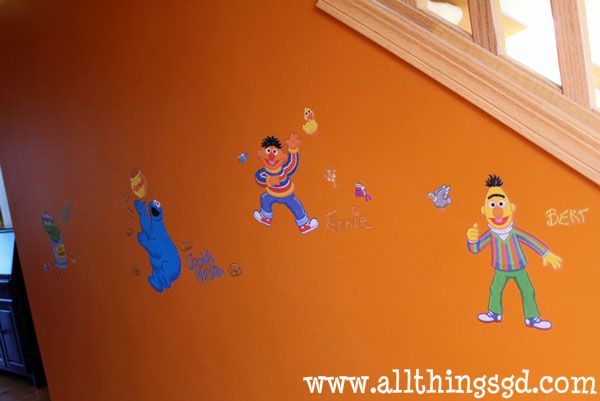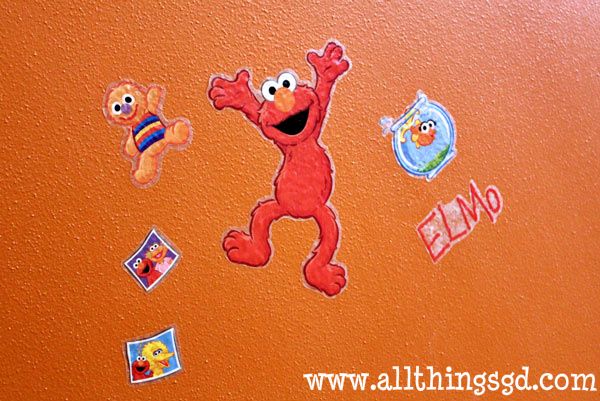 A view of the entry hallway from the kitchen, looking back toward the front door.  (See Abby Cadabby peeking out from the powder room?)
Potty Time with Abby in the bathroom!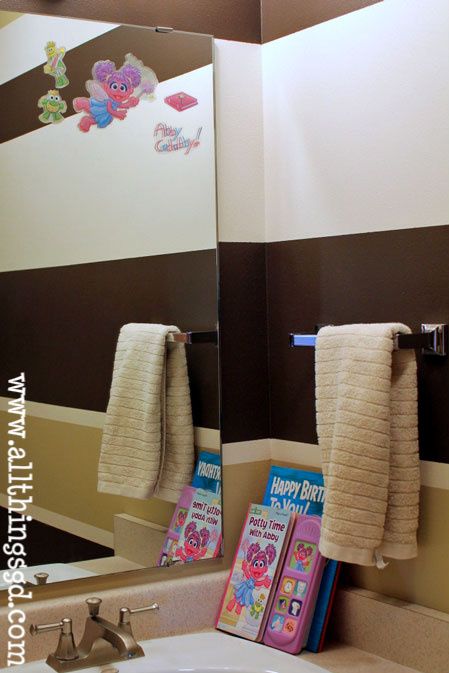 The birthday girl was the star of the party, but a close second was this 7′ tall Sesame Street birthday party lamp post wall decal custom ordered from Modern Wall Graphics, complete with directional signs to those very important things you want to find when it comes to a toddler's party!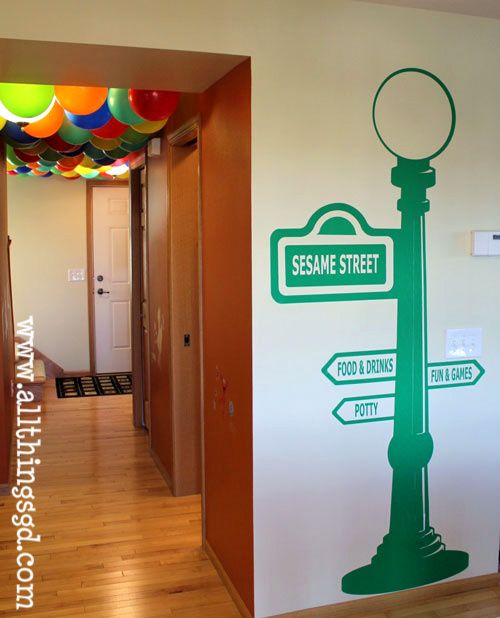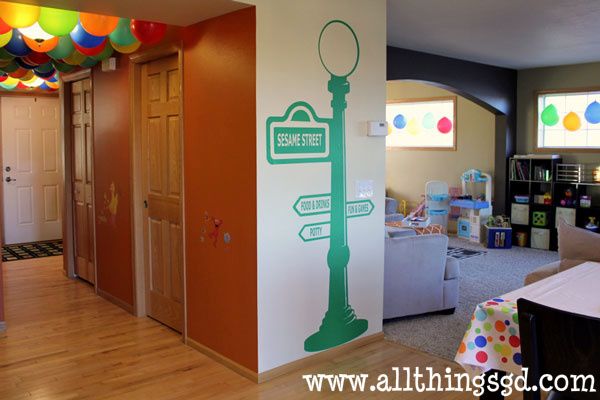 More balloons in the kitchen!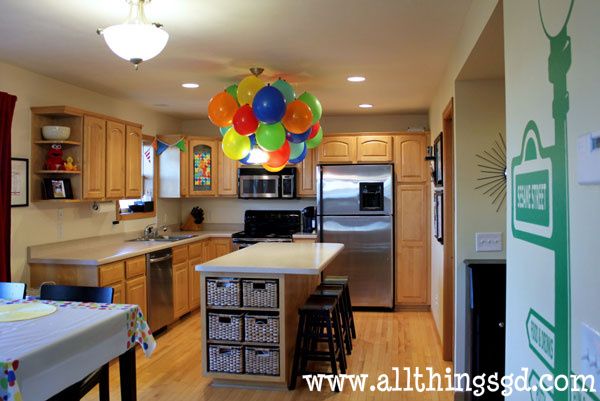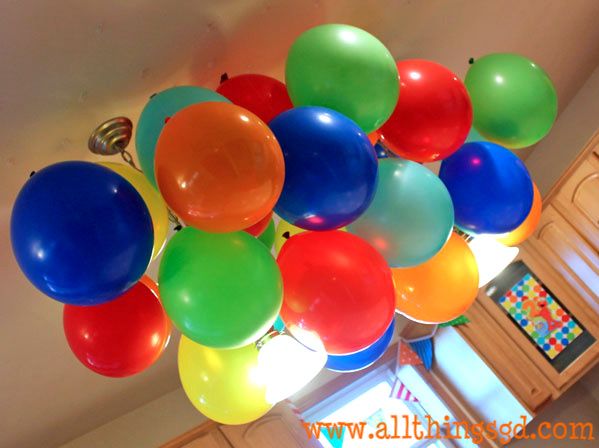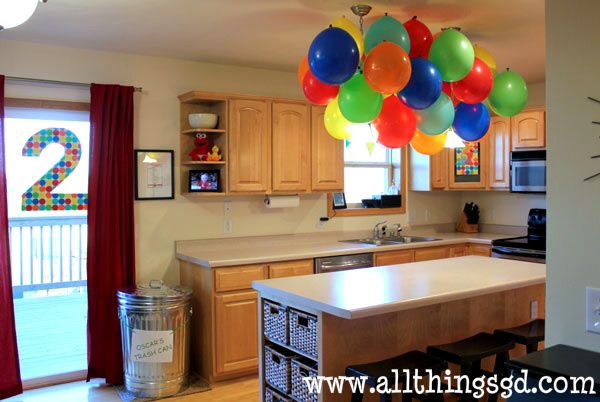 Kate's party invitation, made by my friend Allison, was too cute not to display on the big day!
Of course you can't have a Sesame Street birthday party without an Oscar the Grouch trash can–complete with Oscar himself hiding inside!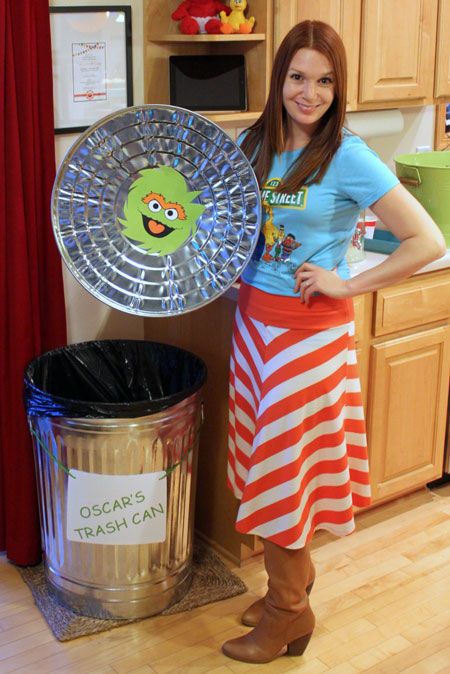 I made this colorful cupcake stand out of cardboard, soup cans, ribbon, wrapping paper, and some hot glue. (Thanks to Annie's Eats for the tutorial!)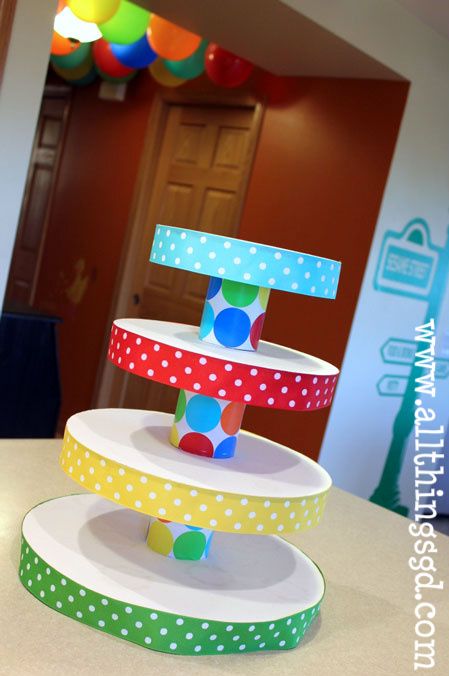 Our console table made the perfect spot for party favor bags and gifts stashed away in the family room.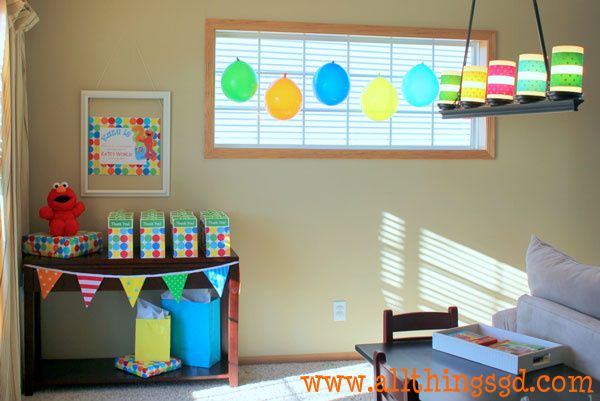 I purchased these favor bags at Target and made the "Thank You!" toppers to mimic the Sesame Street sign.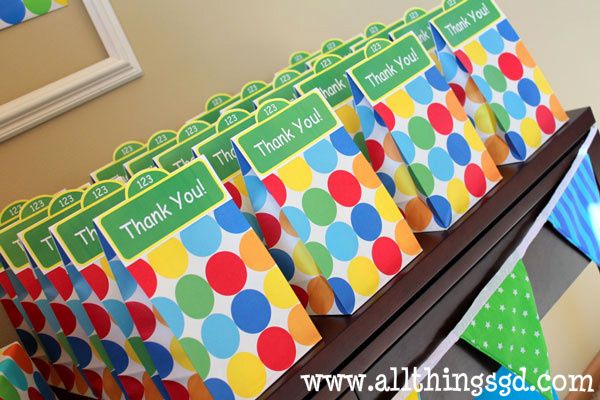 In honor of Kate's favorite segment of Sesame Street–Elmo's World–the favor bags were filled with Goldfish crackers, crayons, and a Sesame Street sticker book.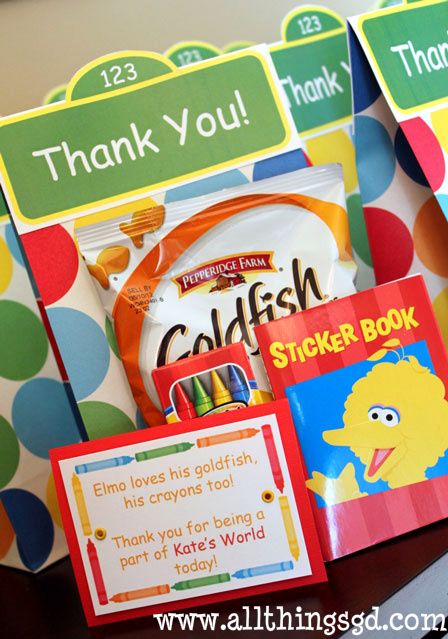 A frame, borrowed from our main guest room, gave this thank you sign over the favor table a little more oomph.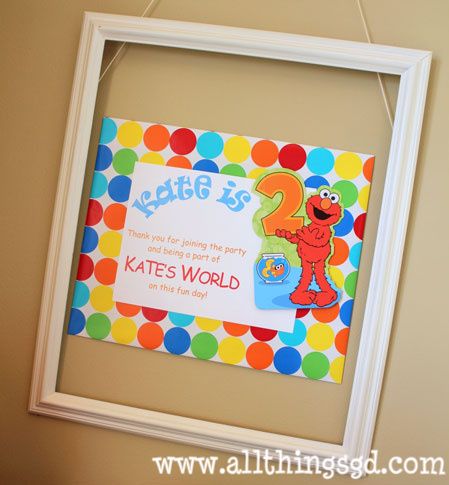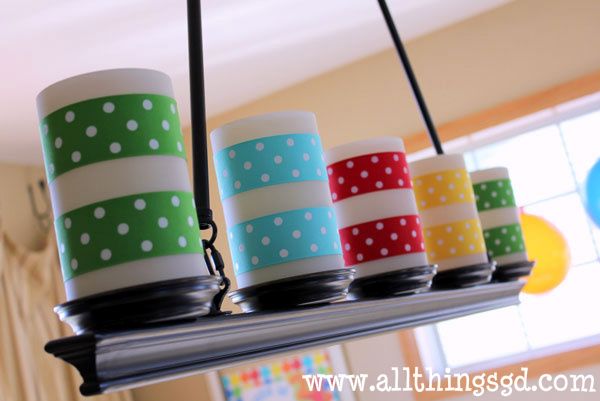 This activity table (from Land of Nod) was Kate's Christmas/Birthday/We're Never Buying Her Another Toy Again present, and it made a great spot for a coloring center on party day!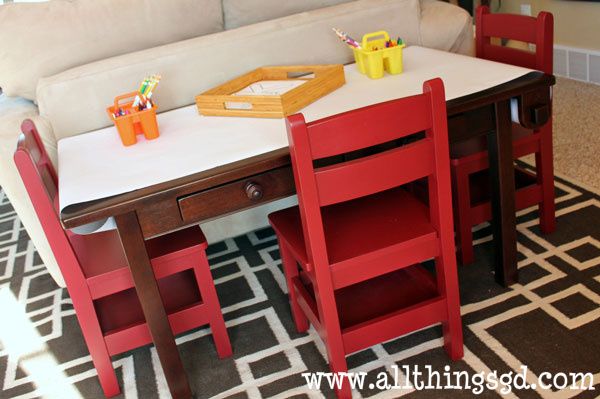 After: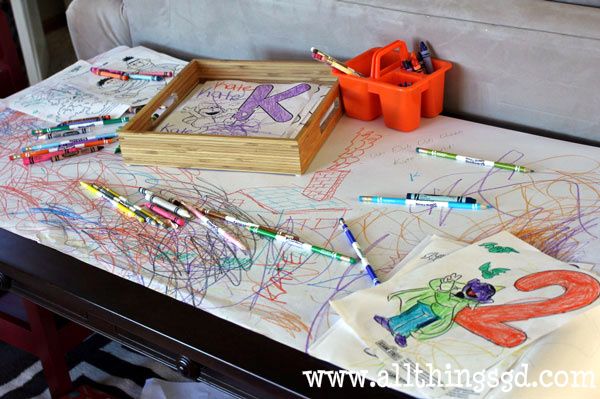 Food and drinks!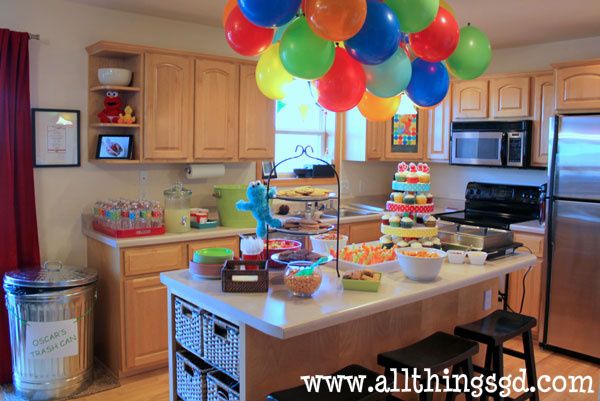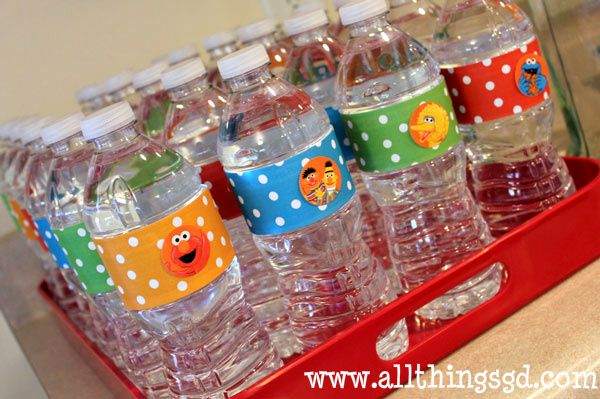 I made name tags for the lemonade cups (each with a different Sesame Street character sticker) so kids were easily able to keep track of which one was theirs.
Goldfish crackers in a fishbowl–of course! (Little cups filled with dip and veggie sticks in the background.)
Cookie Monster's cookie tower, featuring chocolate chip cookies, peanut butter cookies, and Kate's oatmeal banana drops.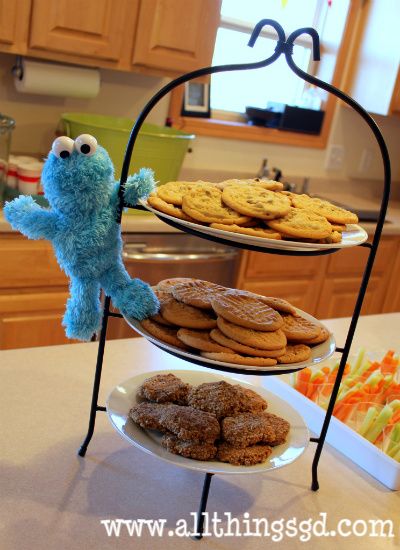 Cupcakes for guests with a sweet tooth…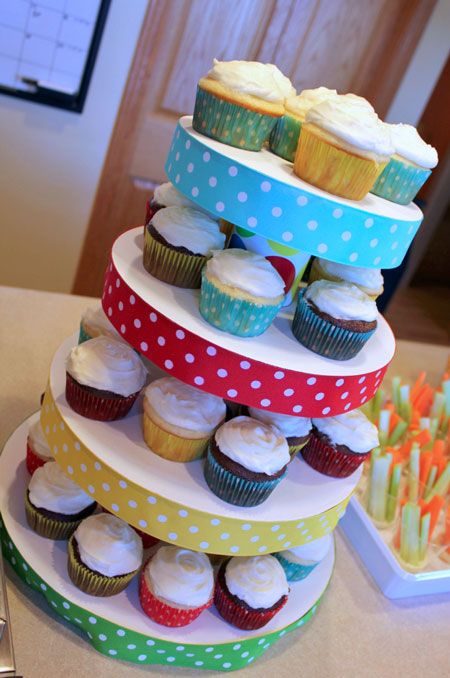 …and a little something for those of us who prefer to drink our dessert.
Elmo's goldfish "Dorothy" surprised Kate by coming over for the party! Kate was thrilled to have her at the house for a little visit…and handled it surprisingly well when Aunt Amanda took her home to her fish tank afterwards.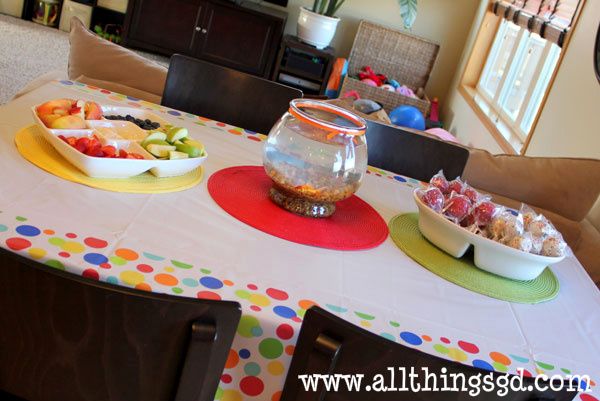 At this point we can't have a party without homemade cake pops–there'd be a riot!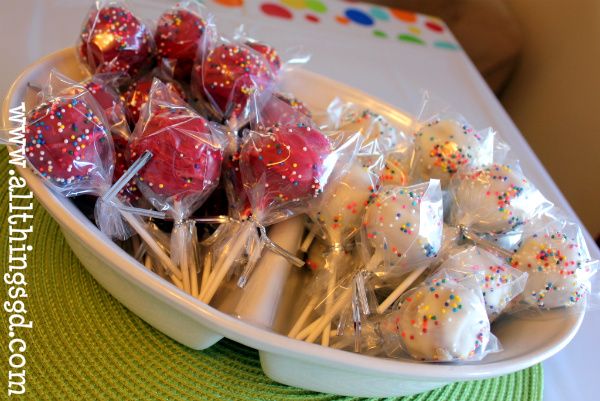 The whole family was into the Sesame Street theme! I wore a t-shirt featuring the whole gang, Kate wore a personalized Elmo birthday shirt made by my friend Kent of Peachy Keen Designs, and G wore a (perfect for him) Cookie Monster t-shirt!
The birthday girl, doing one of her favorite things–JUMPING!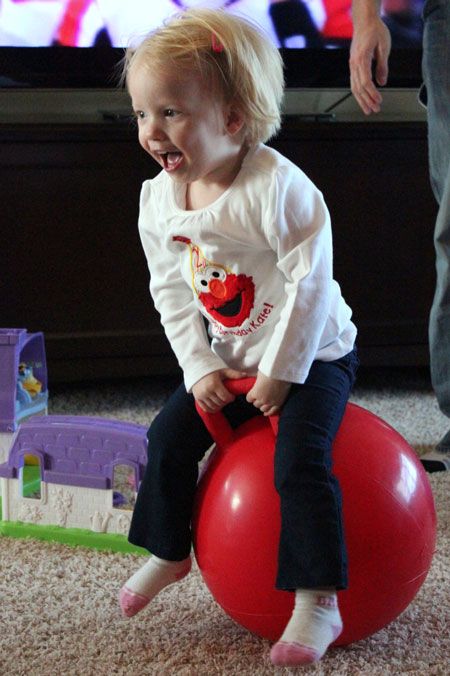 Taste-testing a cupcake…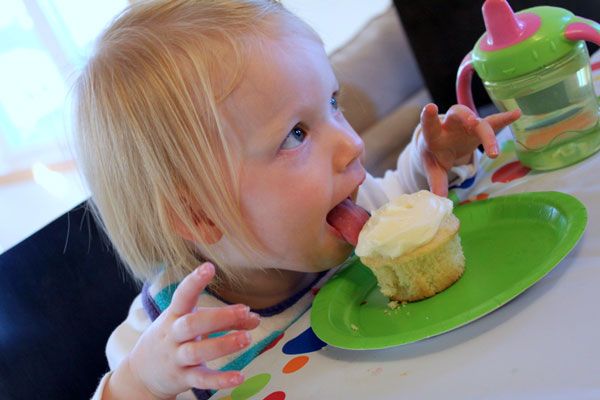 …and deciding she prefers cake pops!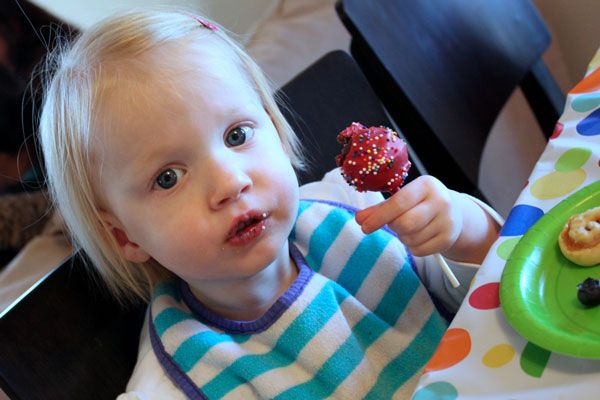 Love my birthday girl!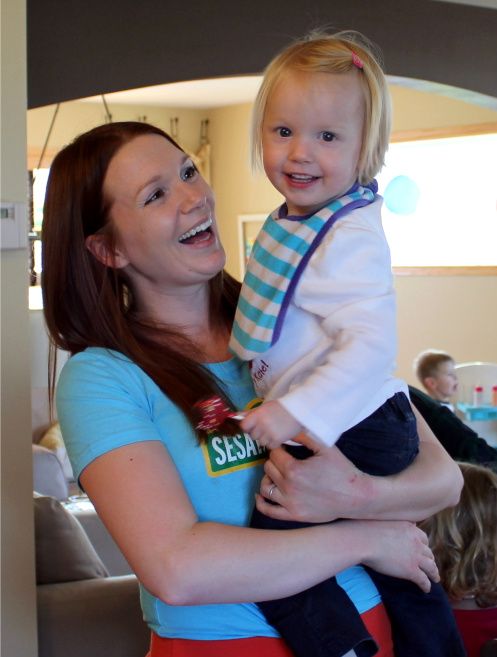 It turned out to be a great day with a house full of kids, friends, family and fun! Thank you to everyone who was a part of Kate's World on this special day!
Check out The Making of Kate's Sesame Street Birthday Party for some how-to tuturials, a shopping list, and our party menu!  Check out my FREE Sesame Street Party Printables to recreate Kate's party for the little one in your life!
Want to see more party fun?  Check out Kate's 1st birthday party celebration!